Our next training Smart Transport Manager Training session is planned for 12-13th January 2021 at FTAI HQ near Dublin Airport (may move for space/COVID) reasons, scroll to bottom of page to book or click this link
Or to receive an invoice (payable before training commences) https://ecofleet.ie/stmt-invoice-request/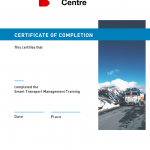 Developed by Smart Freight Centre with their global expert council, STMT equips operators with an action plan to save costs and reduce emissions (complimenting the FTAI TruckSafe, VanSafe and Enprova ECOfleet funding programme).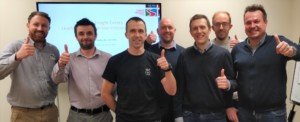 A certified Smart Transport Manager is an elite professional who understands the principles of efficient truck fleet management.
Who should attend
The target audience is transport managers with responsibility for one or more of the following: fuel, drivers and/or vehicles.
What is it
This two-day program is structured around five core modules:
Fuel management.
Managing driver skills.
Fuel specification, vehicle specification and maintenance.
Performance monitoring.
Utilising technology.
The STMT turns Transport Managers into 'fuel champions' with the skills and tools to;
Assess the different aspects of fleet operations which determine fuel use;
Access to state of the art, best practice case studies, tools and online applications
Develop, implement, review and promote effective fuel management action plans for their own fleets.
Discounts for 2+ attendees per company available.
Comments from past participants;
The course helped me to focus on areas for improvement in the company.
Course was very interactive and open to free discussion, leading to good ideas to bring back to my organisation
Course gave a good in-depth knowledge of ways to save fuel and costs.
Group of like minded individuals focussed on a common goal (fuel savings)
Good examples, recommend it!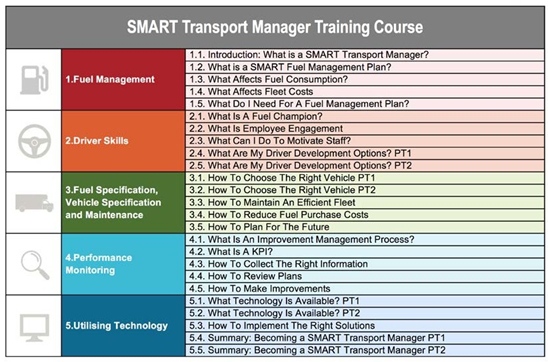 What will I get
1.5 days of interactive workshops leading to a company specific action plan (0.5 days) to save costs and reduce emissions.
A certificate to show you are a Smart Transport Manager – use this to win new and secure existing business – as STMT is becoming part of international freight procurement guidelines.
Is there funding available
Yes. As part of the course you can sign up with Enprova or the FTAI ECOfleet programme to receive funding for your fuel savings from your action plan (if you have not done so already).
You can see case study on South Coast transport at https://www.smartfreightcentre.org/en/news/south-coast-logistics-saves-33-000l-or-104-610-kg-co2e-emissions-thanks-to-stmt/802/
Who are Smart Freight Centre
Smart Freight Centre is a global non-profit organization. Working towards a more efficient and low-emissions global freight sector, think of it as the network of networks for Green Freight Programmes. More details at http://www.smartfreightcentre.org/